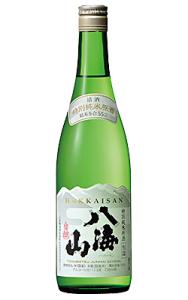 OK, so this is my first summer in Japan. I knew it would be hot, but I didn't realize it would be h-o-t. And humid. And uncomfortable. Although the summer weather is shoganai (a wonderful Japanese word that means "it can't be helped"), one thing we can do to cool down is drink some chilled sake. Chilled sake is delicious, but Hakkaisan raises the bar with their limited summer sake release.
It is only for a limited time – from June to August only – that Hakkaisan begins selling their Tokubetsu Junmai Namazume Genshu. Unique to this sake is that Hakkaisan recommends serving it at an ice-cold temperature in a small glass right from the freezer.
This near freezing creates a super crisp and refreshingly brisk sip of sake, with a texture that can border on a sake slushie. It is a perfectly delicious antidote to any summer heat wave.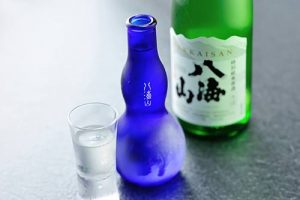 If you chose to serve this sake gently chilled and not ice cold, you'll enjoy other flavors. I find the taste to have a clean and lightly dry rice flavor with a bright freshness. A crisp finish leaves you wanting another sip.
This sake is a "tokubestu Junmai". Junmai is "pure rice style" meaning no added alcohol. Tokubetsu means special, and this sake has a luxurious rice milling rate of 55% – much lower and more premium than other Junmai-grade sakes. This sake is also namazume. That means the sake was pasteurized just once after pressing, not twice as is usual with most sakes. This single pasteurization gives the sake a fresh and buoyant edge. Finally this sake is also a genshu – undiluted with water weighing in at 17.5% alcohol. Genshu sakes have more body on the palate and generally can stand up to richer foods. Hakkaisan is known for clean and crisp sakes, so this genshu is gentle and approachable.
Let's take a look at the stats for this sake:
Alcohol
17.5%
sake meter value
±0.0
acidity
1.5
amino acid
1.4
koji rice used
Gohyakumangoku
brewing rice used
Yukinosei, Yamadanishiki, Todorokiwase
rice-polishing ratio
55%
yeast
Kyokai No. 1001, Kyokai No. 1801
Hakkaisan Tokubestu Junmai Namazume Genshu is not for sale in the States, but if you do visit Japan in the steamy summer months, I hope you get a chance to try it ice cold. Let's stay cool this summer!