I think it is fair to say there is no shortage of places to go shopping in Tokyo. You can drop big bucks on electronics in the Akihabara district or shop for cutting edge, mismatched outfits in Harajuku. However the epicenter of serious retail therapy is without a doubt in Ginza. The Ginza district is famous the world over for high end boutiques, Towering department stores, and an endless parade of Ladies Who Lunch.
The latest addition to Ginza's retail arena is known as Ginza Six which opened to much fanfare in April 2017. If the rest of Ginza is cool, Ginza Six was built to impress even more. With 421 stores in over 500,000 square feet of space, Ginza Six is one of the biggest shopping complexes in Ginza. Entering, you'll see the central atrium outfitted with a stunning polka dot sculpture designed by arguably Japan's most famous living artist, Yayoi Kusama.
Almost Every Japanese department store has an over-the-top food court on the basement level, this is known as a "depachika" (a mix of "depato", which means department store, and "chika", which means basement). Most visitors to Japan will easily remember their first visit to a depatchika as the vast selection and stunning presentation of foods is hard to forget. Ginza Six also has a basement food floor on the B2 level, but they really kick it up a notch.
My recent visit to Ginza Six was to check out their basement food floor to enjoy Hakkaisan's new Ginza Sennenkoujiya shop.

Sennen Koujiya is Hakkaisan's retail shop that sells all of the Hakkaisan sake, but also food and other fermented items from Niigata. The Ginza Six branch is the latest to open.
I visited for the first time on a rainy Saturday. My first impression of Ginza Six was how popular it was. Shoppers were everywhere, even on a rainy day. Lots of people are curious about this new shopping complex and it seemed that every shop was busy. I headed down to the B2 level and took a look around for Sennen Koujiya.
The shop has a beautiful open wood panel design. Along the left wall, there is a full range of Hakkaisan Sakes, but the refrigerator in the corner contained something special. This shops sells some limited sake that is not for sale anywhere else! These include rare Hakkaisan 'Funaguchi sakes' – that is sakes right from the sake press! Fully unpasteurized and non-charcoal filtered. Each bottle is labeled by hand.
Another rare sake that you can only find at Ginza Six is Hakkaisan Ultra Premium Kouwagura 25% Junmai Daiginjo. This is an outstanding sake that has the rice milled to 25% remaining and is aged for 2 years at 0˚C. Super rare and delicious!
The back wall of the shop contains space for all of the perishable fermentation goods including Amazake (a sweet, no alcohol koji rice drink), as well as koji, shio koji as well as koji marinated meats and veggies.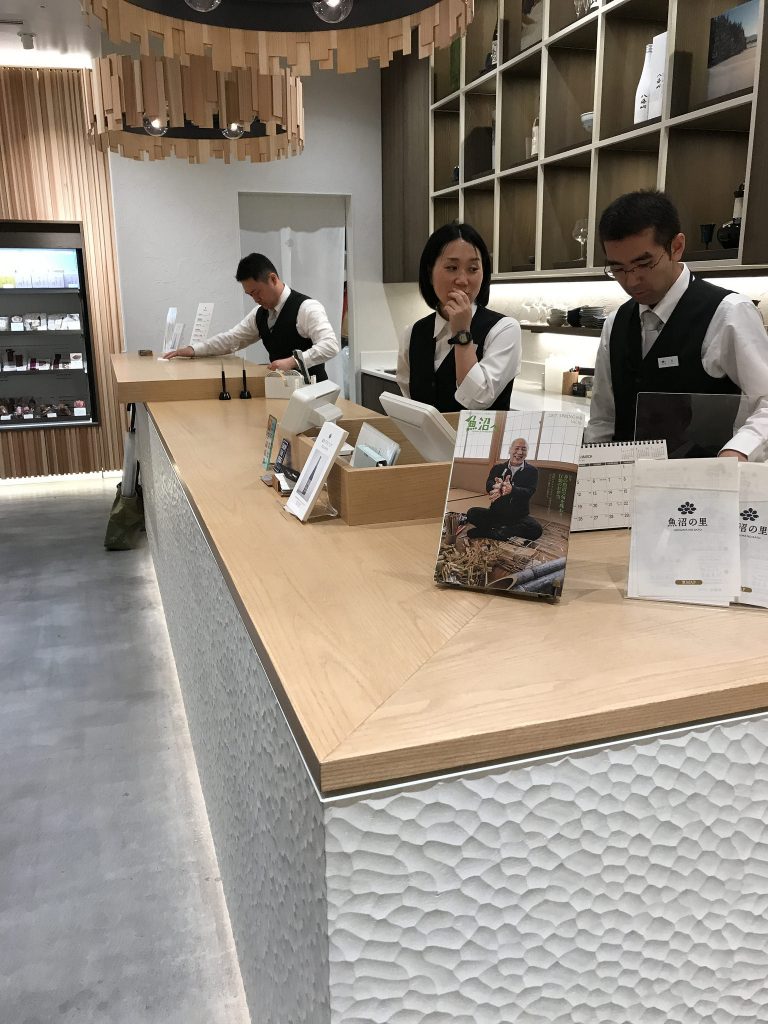 Along the right side wall is a small tasting counter. Guests can order a limited menu of bites and small appetizers and a sake pairing. I was excited to try, and I was able to enjoy a unique and wonderful pairing! I tried the Snow Aged Junmai Ginjo 3 Years served in a beautiful antique glass along with the recommended pairing of Fukinoto (spring mountain vegetable) Miso paste along with sour cream and a drip of lemon. It was a beautiful savory and rich pairing with the Snow aged Junmai Ginjo.
If you get a chance to visit Tokyo, don't miss the chance to stop into Ginza Six! A delicious sake and snack is waiting for you at Sennen Koujiya. Pick up some sakes and niigata foods while you are there. You're friends back home will have depatchika envy!