Aging sake can be a tricky business. If not done skillfully, sake can turn stale and bitter tasting with age. If done well, aging sake can concentrate flavors and enrich and deepen the best traits of a sake. Hakkaisan uses two ways to achieve richness and balance in their aged sake.
Snow Aging
First, Hakkaisan makes use of an abundant, local natural resource in aging their sake: snow! Hakkaisan Brewery is located in Minami Uonuma City, an area of Japan famous for heavy, deep snowfall in the winter months. Hakkaisan has harnessed the power of the snow by creating what is known as a "yuki muro" or snow storehouse. The Hakkaisan Yuki Muro is a large insulated room that contains a 1000 ton pile of snow placed next to 20 sake storage tanks. The sake is chilled in tank using the cold from the snow alone. No electricity at all is used for chilling the sake making this a very eco-friendly facility.
This snow storage concept is not a new one and has been used for generations in snowy regions in Japan to refrigerate foods before electricity. The snow in Hakkaisan's Yuki Muro never melts completely, even after a full year, and it is re-filled with fresh snow every February or March. The temperature is a steady 2-5°C (37-41°F) throughout the year – an important point as too much temperature variation can adversely impact sake as it ages. Being able to chill sake at a steady temperature without electricity has another advantage. In the case of power outage or natural disaster, the sake will continue to age properly with no impact to the temperature.
No Dilution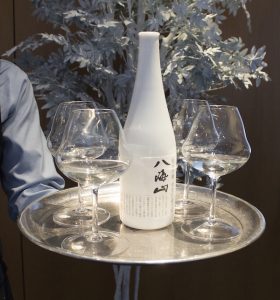 The other method used to create depth of flavor and richness is aging and bottling this sake as a genshu. Most sake is diluted with water after production to bring the alcohol percentage usually down to about 15.5%. By contrast, genshu is a style of sake that is undiluted with water, similar in concept to "cask strength" products in the world of whiskey. In the case of Hakkaisan Snow-Aged Junmai Ginjo 3 Years, the alcohol percentage is 17%. What are the advantages of genshu? As genshu sakes are higher in alcohol, they offer more body, weight and structure to the sake. This translates into the ability to pair genshu sakes with non traditional foods. The keyword here is Umami! Richer foods with lots of savory characteristics pair beautifully with this genshu sake. Pairing ideas along this vein include beef tenderloin, Mediterranean seafood and even liver paté. This genshu sake also has the heft to stand up to mildly spicy dishes as well, so please try this sake with black pepper chicken or beef curry.
Tasting
Let's look at the stats for Hakkaisan Snow-Aged Junmai Ginjo 3 Years.
rice-polishing ratio: 50%
Alcohol: 17.0%
sake meter value: -1.0
acidity: 1.5
koji rice used: Yamadanishiki
brewing rice used: Gohyakumangoku , Yukinosei
This sake is sold as a

junmai ginjo grade

sake, but the milling rate is actually 50% – a super premium level of milling. Milling sake rice to this level gives sake a clean and smooth body with no hint of sharpness or harsh edge. The aroma is restrained and elegant with soft hints of rice – a hallmark of the Hakkaisan brewing style. The palate is full bodied and rich with the gentle aging process creating a rounded texture. Lovely and delicious rice notes accent the primary flavors of this sake. Despite the bold body, the finish remains crisp and cleansing – ideal for food pairing. I recommend a well chilled serving temperature to bring out the invigorating essence of this sake.

Going International
Hakkaisan Snow-Aged Junmai Ginjo 3 Years was recently introduced to the USA with a a launch party at The Modern, the Michelin starred restaurant at the Museum of Modern Art in NYC. The event was attended by about 100 guests from New York restaurants and wine shops as well as press and VIP guests. Appetizers were passed for the group to try pairing this Snow-Aged Junmai Ginjo with non-Japanese cuisine. The President of Hakkaisan Brewery, Jiro Nagumo, was also on hand to introduce the sake to the attendees. It was noted that the beautiful all white bottle design is a reflection of the roots of snow storage used for this sake. You will soon see Hakkaisan Snow-Aged Junmai Ginjo 3 Years appearing in your local sake shops and restaurants. Please try this sake that is new to the USA – you can get a taste of Japan's Snow Country in your town!

Some sakes are at their best when they are fresh and young. Most sakes taste best when they are stored for just a few months. And a rare few sakes really come to life when aged under special care for several years. I recently had the opportunity to taste just such an aged sake… a new product called "Hakkaisan Snow-Aged Junmai Ginjo 3 Years".