I've attended a lot of sake events over the years, but few have been as fun and creatively organized as Craft Sake Week at the Roppongi Hills Arena (April 7-16). This event, spearheaded by soccer star and sake fan Hideyoshi Nakata, started last year but has come back bigger and better for 2017. Over a 10 day run, the event features a total of 100 brewers pouring their products and interacting directly with consumers.
Each of the 10 days of craft sake week has a unique theme. I was pouring sake on April 12 which was "Sparkling Sake Day". For fans of Happo-shu (sparking sake), this must have been heaven to have so many bubbles to choose from. Hakkaisan featured three sakes: Awa Junmai Ginjo Sparkling, Nigori Sparkling and the Snow-Aged Junmai Ginjo 3 Years. I think all of these sakes were popular, but it was especially fun to introduce guests to our new clear sparking sake, "Awa". This new sake is made using an in-bottle secondary fermentation and similar to fine sparkling wines, the sake is also disgorged by hand, creating a clear sake with a fine grained bubble and gentle sweetness.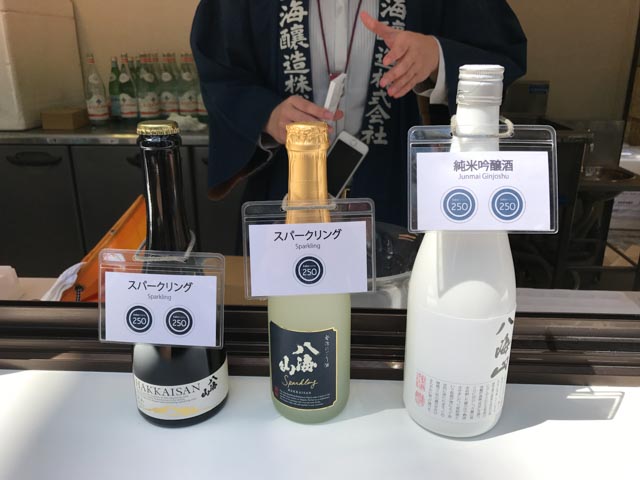 To participate in Craft Sake Week, guests purchase coins that can be used for sake or for the onsite gourmet food trucks. Sakes cost from 1 to 3 coins and guests are issued a sake glass and can wander and try sake at their own pace. Tables and seats are spread around the open air arena and an expansive live cherry blossom installation designed by architect Sou Fujimoto adds a beautiful backdrop and creates and immersive Hanami (cherry blossom viewing) experience. It's beautiful in the day and evening.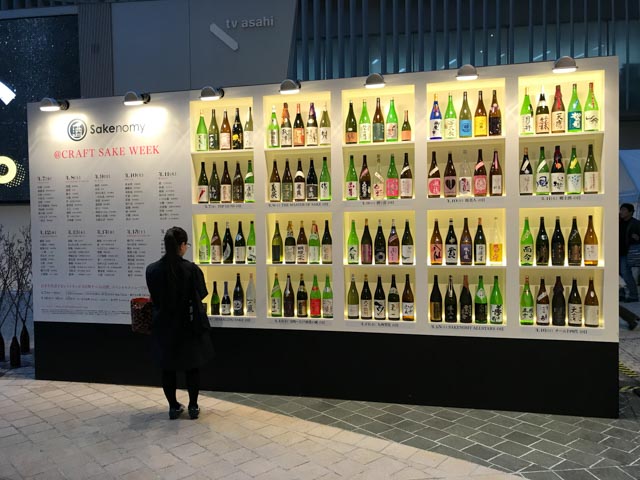 In addition to being able to talk to a variety of Brewers and to try a wide range of sakes, chatting with other sake fans is also really fun. The crowd was an international group with a lot of non-Japanese in attendance, too. It was great to see so many people enjoying sake together. While the sake and food were amazing, there was also some other attractions such as a carnival style game to win sake flavor Kit Kats as well as sake pottery for sale.
This event was exciting for me because it showed the evolution of what a sake tasting can be. It does not have to be only a restaurant pairing dinner or a formal standing sake reception in a hotel ballroom. Making sake tasting fun, stylish and exciting is a great step towards creating new sake fans and growing our industry. And as for me, I'm already excited to see what the folks at Craft Sake Week will cook up for next year! Kanpai!